Our Rich Flora ~ exclusive interview with botanical artist Ann C. Jooste (Dec 2022)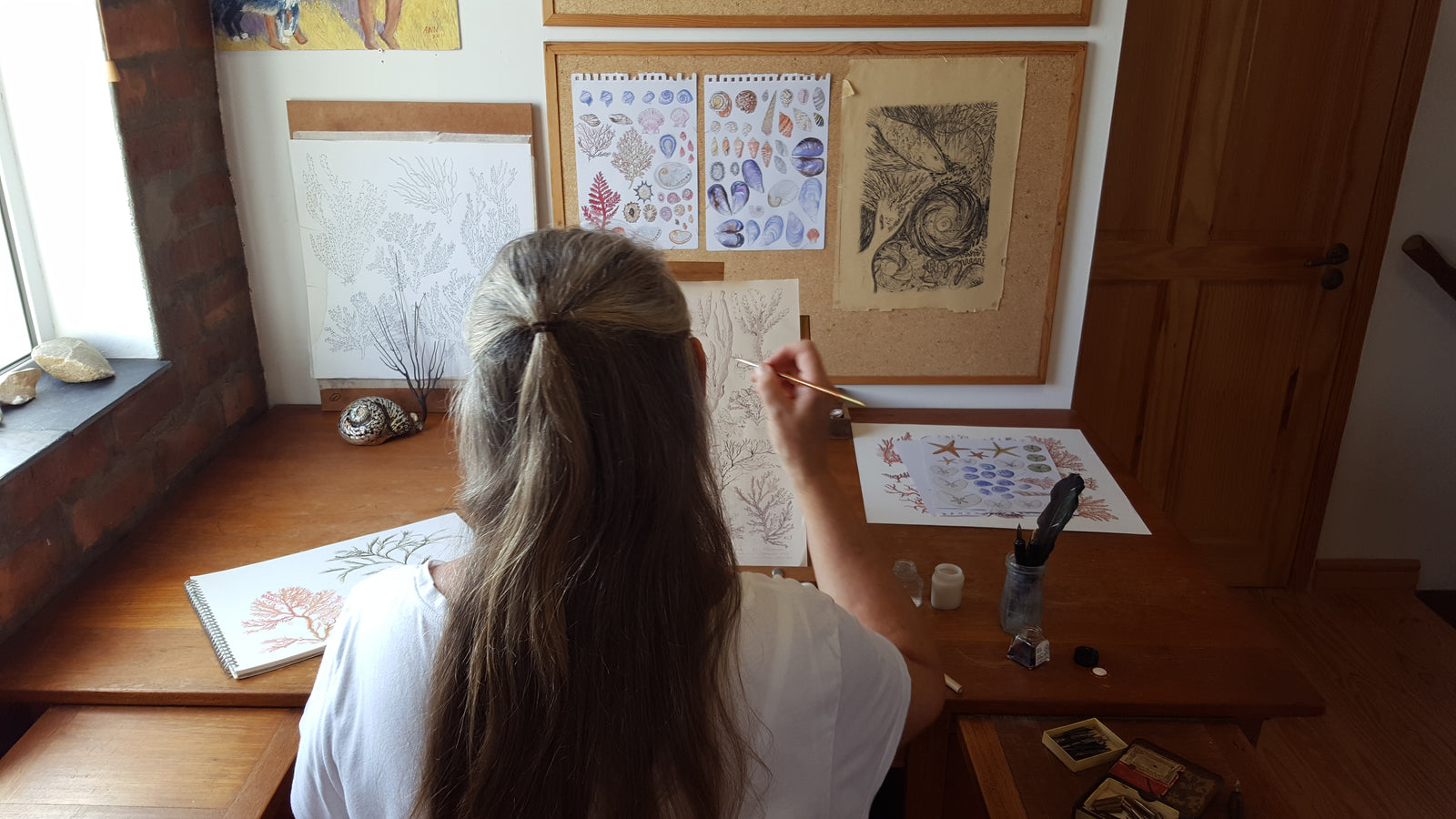 Exciting news! Our botanical artist, Ann C. Jooste, has been featured in a four-page article in the Infanta newsletter. The article, based on an interview with Antonia Langham, offers a captivating glimpse into Ann's creative process and showcases her stunning illustrations. Immerse yourself in the vibrant world of botanical art and discover the inspirations behind Ann's breathtaking work!
How did you embark on your journey as a botanical artist?
A lifetime's love of Mother Nature, art and all things botanical definitely started in childhood. Attending art classes at the Olivier Art Centre in Stellenbosch was the highlight of each day throughout my school career. As a preschool teacher, teaching art to the children was a source of great joy. My passionate interest in creativity included doing pottery, spinning and weaving as part-time hobbies. After retiring from teaching I was inspired to do online courses in art history, which led to an interest in natural history illustration. A part-time course in graphite and charcoal drawing back at my old art school and a lithography course drawing on Bavarian limestone for printmaking, got me drawing again. Self- study from books on botanical art were helpful and guided me along this path of doing plant illustrations.
It was when we moved to Infanta 7 years ago that I became aware of the extraordinary biodiversity of the fynbos species in our immediate surroundings. One sketch led to the next.... the more I drew and painted, the more I saw! Studying and painting the amazing array of plants right here on our doorstep opened my eyes to a whole new world of Infanta Botanica! Doing botanical illustrations for CoralBloom Studio is very much a part of this epic ongoing journey.....

I believe that there is a larger story at play in that you are trying to document the flora of the Infanta area? The dream is to one day publish a book of plant illustrations of the Infanta and the Overberg area. This is an idea and long term goal I treasure, who knows? Maybe some dreams come true? Regular walks in nature in the Infanta veld often bring surprising rewards of stumbling across special plants in flower.

What is your inspiration when it comes to drawing?
The extraordinary pure beauty and perfection of nature inspires me! The plants and flowers of our Infanta area are amazing and a source of never-ending fascination to me. The organic shapes of plants, their perfect engineering, their morphology, the subtle colours and the ways that the plants adapt to their niches in the environment.... all are simply wondrous!

What is your favourite Infanta flower and why?
It is impossible to choose only one, but I can mention a few intriguing species. The Paintbrush lily (Veldskoenblaar/ Kwaslelie) was abundant after the big veld fire in the area 7 years ago. It is so unique with its fragile, yet beautiful strength. I love its paintbrush shape! Then there is the Fire lily (Vuurlelie) which has also been a rare sighting for me, they are so dazzling and colourful. My other favorites are the amazing array of grasses and restios, as well as Blouberpypie (Thereianthus) that I saw growing by the roadside in a wet, marshy area. I have only once seen them in all these years after good rains and only in that one special place.

What are the most exciting projects you have worked on so far?
In collaboration with CoralBloom Studio, illustrating a variety of carefully selected plants from the gardens of the Antonij Rupert Estate for an exclusive range of products for their manor house and tasting room shops. Painting Kruger Lowveld plants for functional art gifts, T-shirts and hoodies for the Endangered Wildlife Trust is also a highlight. I was thrilled to work on a special collaboration project with @Home that is due to launch in the near future.
Who and what is CoralBloom Studio?
CoralBloom Studio is our family run business making unique fynbos inspired functional art.
To what do you attribute some of the success of CoralBloom Studio?
Teamwork, hard work, never giving up, passion, being authentic and having the courage to try and dare to experiment and do new things! Following your own heart and being true to self, ethical transparency, being eco-conscious and sustainable and daring to dream big!
We are so grateful for the international exposure such as taking part in the New York Now 2021 exhibition and being on online platforms such as UrbanKissed in Switzerland. We are thrilled to have our range featured on local platforms such as KNUS, Yuppiechef, The Local Edit and PlainTiger to mention a few. Being featured in magazine articles gives welcome exposure, things that before were a dream are now a reality! Supplying shops countrywide keeps us very busy and we are so thankful for the continuous support from local and international customers who choose to support artisans. It actually all started way back when, trading at the annual Christmas and Easter markets at the Infanta bottletop, so big thanks to the Infanta community for years of supporting our entrepreneurial endeavors!
Taking part in exhibitions such as Decorex Africa 2022 in Cape Town and Kamers 2022 in Stellenbosch are exciting adventures. Social media and the website www.coralbloomstudio.com give us a platform to share our story and work, in combination with high quality products and original authentic art which comes from a heartfelt place.
---